We decided to make a model just for the sheer joy…
And to bring you the same joy, we documented the process of its production. Voilá, presenting the famous comic book inspired rocket.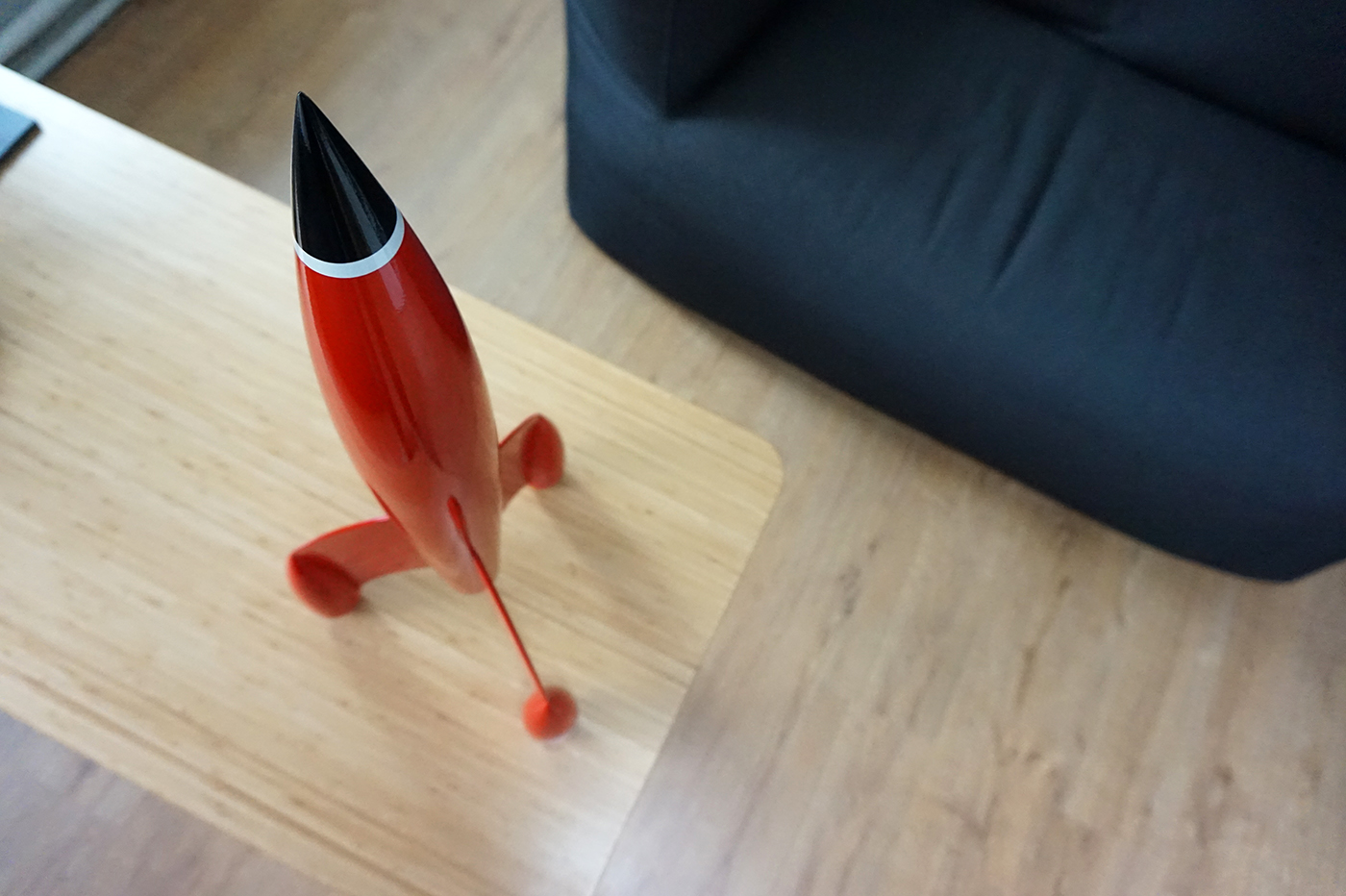 STEPS OF PRODUCTION
1. MDF boards were glued with an epoxy adhesive, cut to the desired size and pressed to cure.
2. When cured, the glued prisms were aligned using a woodworking CNC cutter for more accurate fixing to a lathe.
3. On the lathe, the rocket body and the missiles started to achieve the desired shapes by machining and sanding. To obtain the most accurate form of the rocket according to the 3D model, the workpiece had to be constantly measured and re-measured.
4. Using a tool for chiselling wood, the grooves were milled for the missile wings to fit later.
5. MDF parts were spread and thus soaked with a wood varnish to form a hard and non-absorbent surface, which was then sanded until smooth.
6. This was followed by a production of the missile wings from a Komatex board. The wings were cut based on the dimensions of the 3D model, with the help of a paper template.
7. The wings were sanded until smooth and epoxy glued to the rocket body and missiles into pre-milled grooves.
8. Any inaccuracies or errors were cemented and sanded.
9. The rocket was thus ready for spraying. Spraying was carried out in three phases: 1) spraying the base color, 2) paint spraying in desired color shades and 3) spraying varnish in 2 layers.
10. It took about a week for the paint to fully cure.
PRODUCTION SPECIFICATIONS
Technology: woodworking lathe
Material: MDF 
Size of the final model: 300x300x720 mm 
Production duration: 35 hrs. 
Finish: epoxy, putty, acrylic spray, paint, varnish 
Purpose: joy