Our last month's 3D printing was devoted to well-known Slovak monument, Spiš Chapter house. Based on the 3D scanned data from STUDIO 727 we printed its three 460mm x 340mm x 280mm large miniatures – one in white monochrome and two in full-colour.
The following steps show the production of the monochrome model. The full-colour version coming soon.
STEPS OF PRODUCTION
1. 3D model was optimized for 3D printing: 3D scanned data were thoroughly edited, polygons reduced.
2. Digital 3D model was printed in monochrome sandstone (gypsum composite).
3. The printed model was depowdered and sanded to smoothen the finish.
4. A few fragile details of the model were glued first to become solid.
5. The whole model was then finalised with epoxy to become solid and durable.
6. Some of the details which were printed separately (towers, cross, …) were glued to the model.
7. The cured model was waxed for an even smoother finish.
PRODUCTION SPECIFICATIONS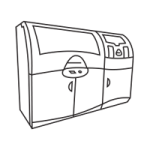 3D printer: ProJet 860 Pro
Material: sandstone (gypsum composite)
Size: 460x340x280 mm 
Print duration: 28 hrs. 
Finish: glue ColorBond, epoxy, paraffin wax