The higher quality 3D scans, the better looking 3D prints… It was a great joy to work on these miniature busts.
STEPS OF PRODUCTION
1. The 3D scanned digital models were printed in fullcolour sandstone.
2. The de-powdered printed models were finalised with glue to become solid and durable.
3. The dried models were soaked in wax for nicer finish and more saturated colours.
PRODUCTION SPECIFICATIONS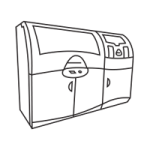 3D printer: Zprinter 650 (ProJet 660 Pro)
Material: sandstone (gypsum composite)
Height: 7 cm 
Print duration: 3.25 hrs. 
Finish: glue ColorBond, wax