You might have noticed these animation ants on our website and social networks. These were created for a short animation film for our Austrian client TGW Group. If you like the ants, take a peek on these images depicting the step by step process of their materialization from a digital 3D model to its 3D printed form using a gypsum composite 3D printer.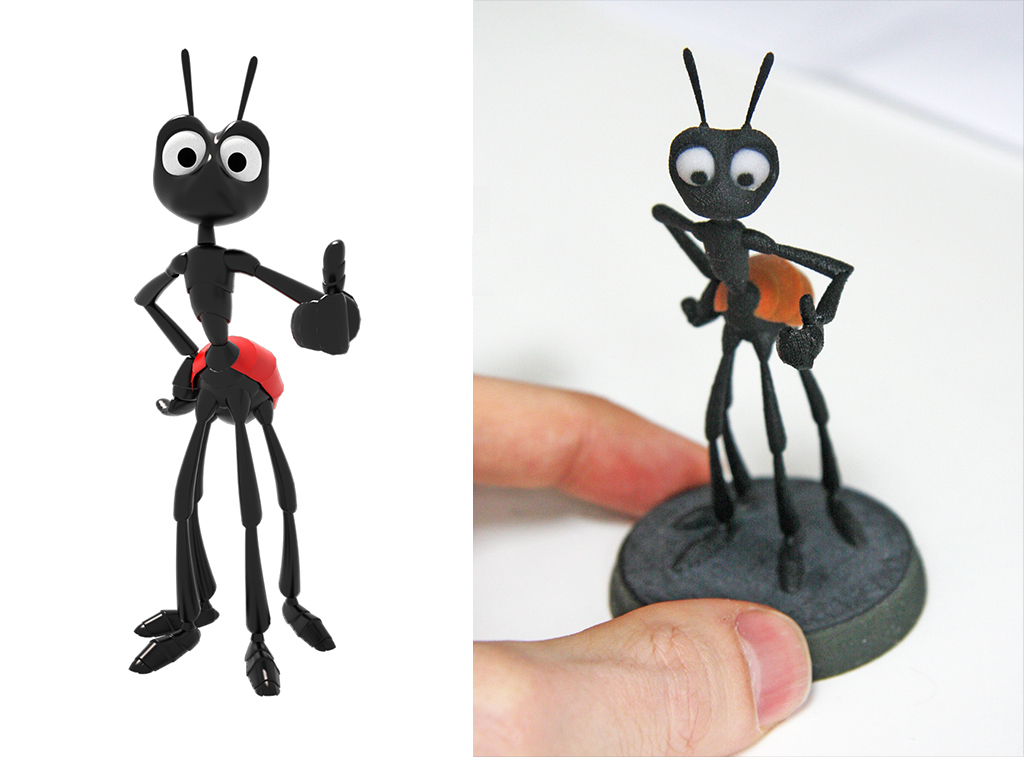 1. STEP: PREPARING THE DATA FILE
First, we take the 3D digital file and check its quality and suitability for 3D printing. In this case we used the 3D model from our own animation. Fortunately the model was flawless and therefore ready to be 3D printed immediately.
2. STEP: PREPARING THE 3D PRINTER
We check the state of the maschine and the materials used for 3D printing. This time, the printer was low on gypsum composite and therefore we had to "load" it using a special vacuum cleaner.
3. STEP: 3D PRINTING LAYER BY LAYER
During this time we can concentrate on other things, as the 3D printer works perfectly on its own.
4. STEP: VACUUMING THE GYPSUM
When the 3D printing is finished, we use a special vacuum cleaner (the same one as in the beginning) to return the extra gypsum back to the 3D printer.
5. STEP: CLEANING THE 3D PRINTED OBJECT
After vacuuming, the object is ready to be carefully but thoroughly cleaned from the dust and finalized.
6. STEP: FINALIZING THE CLEANED 3D PRINTED OBJECT
Finalization is an important step of the composite 3D printing. The gypsum 3D objects are very fragile and finalization makes them firm and durable. In this case we used superglue ColorBond.
7. STEP: DRYING THE FINALIZED 3D PRINTED OBJECT
The superglue dries quickly but it is always important to leave the object to dry for a little while before packing it or using it. Sometimes a dryer or a special stove can be used to speed up the process.
8. STEP: ENJOYING!
The last step is completely and only up to you.